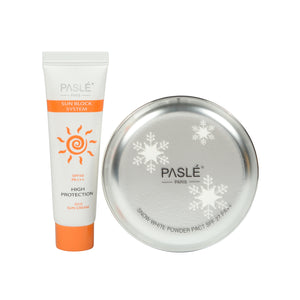 Describe
Set of sunscreen & snow white powder from Pasle Paris brand, an indispensable product duo for women, effective makeup and sunscreen with only 2 products.
Uses
Snow white powder with hollow powder particles as light and smooth as silk has a 2-in-1 effect with high oil absorption function, good adhesion to help bright and dry skin all day. Perfectly covers facial imperfections such as wrinkles, large pores, giving a skin with a perfect clear white light, natural smoothness and no clogging feeling. Provides absolute protection for the skin.

Q10 Pasle sunscreen effectively prevents skin pigmentation, sunburn, skin cancer, combines natural oil ingredients to protect the skin membrane, resists drainage & aging caused by the sun. Not only that, when spreading sunscreen evenly on the skin, it will create a lighter, whiter background than the real skin tone and cover imperfections on the skin. Therefore, the product can completely replace the foundation step to limit skin congestion in hot weather.
Using
Evenly apply a thin layer of Q10 sunscreen as a primer/makeup base, then use Pasle snow white puff to gently apply to the entire face and neck, paying attention to carefully apply the T-zone to bring smoothness.
Ingredient
Micro powder, vitamins, Q10 and Olive with high SPF50 sun protection effectively prevent UVB rays and high PA +++ index against UVB rays ...